Page 53 - Security Today, March 2022
P. 53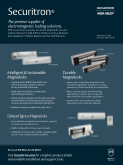 Securitron®
The premier supplier of electromagnetic locking solutions.
When you choose a genuine Securitron Magnalock®, you get quality solutions for high traffic and high security applications plus MagnaCare® Lifetime Replacement No-fault Warranty.
Intelligent & Sustainable Magnalocks
• Available with PIR REX, BondSTAT® and DPS reducing the number of devices to buy and install at the door.
• Sleek and low profile for aesthetically demanding applications.
Durable Magnalocks
• Patent-pending template and bracket mounting system enable accurate alignment of magnet and armature plate for maximum holding force.
• Reduces energy consumption by up to 80%.
Delayed Egress Magnalocks
• Forapplicationsmeanttopreventperilorproperty loss to persons and businesses.
• Highlyconfigurable,strong,easy-to-mount.
• DEM680EstandardmodelisHUGS-compliantwith specific code compliant models available.
• Lower power usage than competitor locks. Securitron Magnalocks consume less energy, generate less heat and outlast the competition.
• Water resistant design, shock absorbing polyurethane, stainless steel casing and plated lock face, for outdoor applications.
• Instant release circuit with no residual magnetism and no inductive kickback.
SEC M380EBDX
SEC M82B
SEC M62
SEC M32
SEC M680EBDX
SEC DEM680
SEC iMXDA
See us at ISC West, Booth #8061
Visit Securitron.com for complete product details and available installation and support tools.