Page 19 - Security Today, September/October 2021
P. 19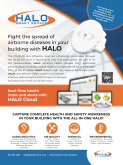 A'-'Cord.
I/I/0,.' ["9 to th
tfliifiizazzealgh e
* ' A'ner,'"di"9s ,5" of
_ Deca °'°rn N.°"h
OPIQ sick-iklng
SN/|'A-RT SENSOR '
. 2 39

Fight the spread of /.
airborne diseases in your

building with HALO  _ } .~ V

"vi '-1

The COV|D»l9 and Influenza virus are commonly transmitted through

the air as the virus is attached to very fine particulates. As part of its

AQI measurements, HALO monitors Carbon Dioxide (CO2), particulate
concentrations, Humidity, Volatile Organic Compounds (VOC), and Nitrogen

(N02) in the air. When HALO detects high CO2 levels or particulate levels,

HALO can notify the HVAC system via its BACnet El." "E
interface, instructing the HVAC to open its dampers __  <FL52>
and allow more fresh air into the room. sauna?"-Tgj ' t; 'I ;.E
Real-Time health  I - =  - ~" g 7
index and alerts with ;"'"""""""'-°' U
HALO Cloud % i __  

- 2 _ of
L—-— ~»(C~|-|E_p$—I.?I3'«'
CAPTURE COMPLETE HEALTH AND SAFETY AWARENESS
IN YOUR BUILDING WITH THE ALL-IN-ONE HALO!
 
AUDIO ANALYTICS AIR QUALITY CHEMICAL ENVIRONMENTAL
-Spoken Key Word Alerting -Vape - Smoke -Ammonia -Temperature- Humidity
- Abnormal Noise Level Detection -THC - Particulates - Carbon Monoxide - Tamper - Pressure - Health
- Shouting - Gunshot Detection - Air Quality index - Carbon Dioxide Index - Light Sensitivity
- Excessive Banging -Volatile Organic - Nitrogen
- Bullying Compounds
Cor l()l'l
Q?