Page 15 - Security Today, September/October 2021
P. 15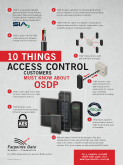 10 THINGS
For a complete, in-depth OSDP white paper, visit www.farpointedata.com/osdp
1 OSDP is a real global standard approved by the Security Industry Association (SIA) and International Electrotechnical Commission (IEC), open to use by any manufacturer.
4 OSDP is built on the RS-485 serial transmission standard, needing just four conductors.
2 OSDP provides a guideline for interoperability among various companies' access control and security products, such as card readers and door controllers.
3 OSDP offers the option of encrypted communications between reader and door controller, independent of any encryption between credential and reader.
5 OSDP offers point-to-point and multi-drop topologies.
ACCESS CONTROL CUSTOMERS
MUST KNOW ABOUT OSDP
7 OSDP is more cyber secure than the most common access control communications protocol.
8 OSDP provides secure communications by specifying FIPS-197 encryption (AES).
6 OSDP provides a true bidirectional protocol, addressing business requirements for secured and confidential authenticated messaging.
9 SIA provides a guide to find and explore verified OSDP products that meet its standards.
10 Farpointe Data is honored to be among the first three manufacturers to have earned the SIA's new OSDP Verified mark on its mobile, contactless smartcard and proximity solutions. Plus, these readers are fully potted and IP67-rated!
The OEM's global partner for premium RFID solutions
© 2021 Farpointe Data, Inc.