Page 13 - Security Today, September/October 2021
P. 13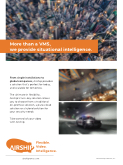 More than a VMS,
we provide situational intelligence.
From single installations to
global companies, Airship provides a solution that's perfect for today, and scalable for tomorrow.
The ultimate in flexibility,
Airship's turn-key solution allows you to choose from a traditional on-premise solution, a pure-cloud solution or a hybrid solution for your security needs.
Take control of your video with Airship.
Flexible. Video. Intelligence.
airshipvms.com
©2021 Airship Industries, Inc.