Page 50 - Security Today, July/August 2018
P. 50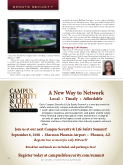 connect the Axis IP-based digital video surveillance cameras with the Milestone VMS.
"This iconic event calls for age-old traditions but when it comes to security, age-old methods won't suffice," said Norman Rice, chief marketing, development and product operations officer at Extreme Networks. "Extreme's technology is specifically engineered to provide the high-performance, high-bandwidth, ultra-reliable connectivity needed to help keep everyone safe and secure throughout the dura- tion of the event."
Upon arrival, each player, staff member, volunteer and vendor
is enrolled in Lenel's OnGuard system to receive a photo identifica- tion badge for use during the series. These personalized badges allow entry to selected areas of the facility. Only players, coaches and au- thorized staff are allowed access to the dormitory areas where players sleep, eat and rest.
"As badge holders move around the facility they must present their credentials at key checkpoints," said Jeff Stanek, general manager at Lenel. "The access control system taps into the video system, present- ing a live video feed together with the cardholder's database photo, for easy identity verification by security guards. Our OnGuard WATCH tool offers an intuitive graphical interface that makes it even easier for security personnel to gather data and quickly respond to any needs."
Bringing it All Home
"Our town of 6,500 people booms to almost half a million over the course of this 10-day annual event. Making sure it is both fun for families, and safe for all who take part, is of utmost importance," said Jim Ferguson, Little League International assistant director of risk management. "We have every confidence in Axis Communica- tions, Extreme Networks, Lenel and Milestone to
help us achieve these goals. They are tested and proven systems, with each of these companies cho- sen to protect the players and fans from around the world."
Courtney Dillon Pedersen is the communications manager in the Americas for Milestone Systems.
SPORTS SECURITY
50
A New Way to Network Local • Timely • Affordable
Each Campus Security & Life Safety Summit is a one-day event for safety and security campus and education officials.
• Learn about new solutions and technologies for campus security,
emergency response and management, and public and life safety. • Hear firsthand stories from police chiefs and others in charge of
security at some of the largest school systems in the country.
• Network and learn vital information from industry experts and each
other.
Join us at our next Campus Security & Life Safety Summit! September 6, 2018 • Sheraton Phoenix Airport • Phoenix, AZ
Register two or more for only $59 each!
Breakfast and lunch are included, and parking is free!
Register today at campuslifesecurity.com/summit
Go to sp.hotims.com and enter 82 for product information.