Page 47 - Security Today, July/August 2018
P. 47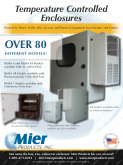 Temperature Controlled Enclosures
Protect Fire Panels, NVRs, Wifi, Security and Electrical Equipment from Weather and Vandals
OVER 80 DIFFERENT MODELS!
NEMA 4 and NEMA 4X Models available with AC and/or Heat
NEMA 3R Models available with Thermostatically Controlled Fans
NEMA 1 Models available with Continuous-Duty Fans
Rack Enclosures include an internal rack system
Polycarbonate and Stainless models are also available
All models available with or without windows
You name the box, can, cabinet or enclosure: Mier Products has you covered!
1-800-473-0213 | info@mierproducts.com | www.mierproducts.com
Go to http://sp.hotims.com and enter 3 for product information.