Page 153 - Security Today, July/August 2018
P. 153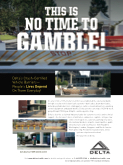 Delta's Crash-Certified Vehicle Barriers— People's Lives Depend On Them Everyday!
It's a fact. Since 1974, Delta Scientific has established the safety standards for high security vehicle barricade systems—barricades, beam barricades, bollards, portable barriers, sliding gates, surface mounted barriers—parking control equipment and guard booths. Delta systems can stop a 16,500 lb truck going 50mph (7500kg @ 80kph)...and keep protecting.
Delta is also the acclaimed industry leader for customer service and technical support...the foremost choice of militaries, embassies, capitols, colleges, law
enforcement agencies, auto lots, parking structures, international borders, airports, municipalities, public infrastructures and courthouses from Riyadh to Washington, London, Singapore and Rio de Janeiro. From protecting Presidents to pedestrians, Delta
systems stop terrorists dead. Bet your life on Delta.
Ask about our NEW bollard covers!
Visit www.deltascientific.com for details and specifications. 1-661-575-1100 info@deltascientific.com Go to http://sp.hotims.com and enter 717 for product information.