Page 151 - Security Today, July/August 2018
P. 151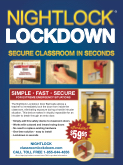 ®
SECURE CLASSROOM IN SECONDS
SIMPLE • FAST • SECURE FOR EXTREME EMERGENCY SITUATIONS
The Nightlock Lockdown Door Barricade allows a teacher to immediately lock the door from inside the classroom, eliminating exposure during a hostile intruder situation. This device makes it virtually impossible for an intruder to break through an entry door.
• Simply add this safety device to classroom doors • Works with outward and inward swing doors
• No need to replace existing hardware
• One time solution - easy to install
• Lockdown in seconds
NIGHTLOCK
classroomlockdown.com
CALL TOLL FREE 1-855-644-4856
Go to http://sp.hotims.com and enter 703 for product information.
So affordable!
$5995
ea.