Page 103 - Security Today, July/August 2018
P. 103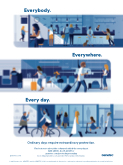 Everybody.
Every day.
Ordinary days require extraordinary protection.
Find out more about the software behind the everyday at GSX (ASIS), booth #2951 or genetec.com/protectingeveryday
Go to http://sp.hotims.com and enter 64 for product information.
Everywhere.
genetec.com
© 2017 Genetec Inc. GENETEC and the GENETEC LOGO are trademarks of Genetec Inc., and may be registered or pending registration in several jurisdictions.