Page 101 - Security Today, July/August 2018
P. 101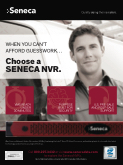 Quietly doing the incredible.
WHEN YOU CAN'T AFFORD GUESSWORK...
Choose a SENECA NVR.
Our Seneca Network Video Recorders (NVRs), featuring the Intel® XeonTM Silver Processor, will add a splash of color with the latest technology and services you expect from us.
Call 800.227.3432 or visit www.senecadata.com
to explore the Seneca NVRs.
Go to http://sp.hotims.com and enter 63 for product information.