Page 99 - Security Today, July/August 2018
P. 99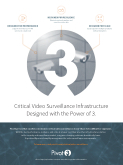 DESIGNED FOR PERFORMANCE
Support more than 10,000 HD cameras in a single rack
DESIGNED FOR SCALE
Easily expand to multiple petabytes without disruption
DESIGNED FOR RESILIENCE
Eliminate system downtime and never lose video data
Critical Video Surveillance Infrastructure Designed with the Power of 3.
Pivot3 proves that excellence in mission-critical video surveillance doesn't have to be difficult or expensive.
With the best performance, resilience and scale at a lower cost than any other infrastructure solution in the security and surveillance market, our game-changing solutions dramatically lower Capex and Opex and simplify management for video surveillance environments.
To learn more, visit pivot3.com/solution/video-surveillance
Go to http://sp.hotims.com and enter 62 for product information.