Page 80 - OHS, June 2022
P. 80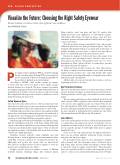 PPE: VISION PROTECTION
Visualize the Future: Choosing the Right Safety Eyewear
From features to lens color, the options are endless.
BY KATHERINE FAULK
Personal protective equipment (PPE) is crucial for reducing the risk of worker injury. Wearing PPE is not enough. You need to ensure that workers are wearing the right PPE for the specific job application and environment.
According to NIOSH, 2,000 workers sustain eye injuries at work every day.1 About one-third of these injuries require medical attention at a hospital. The most common eye injuries are striking/scraping, penetration and chemical/thermal burns. A small minority of workers contract eye diseases such as the avian flu or hepatitis B. Ninety percent of workers could lessen or avoid injury by wearing eye protection.2
Safety Eyewear Types
The reason the term safety eyewear is often used instead of just safety glasses is that eye protection comes in more forms than just the standard frameless lens. Each variation has its own benefit.
Full frame glasses feature lenses that are surrounded and held in place by a sturdy frame, making them perfect for a multitude of job applications or for leading an active lifestyle. They also tend to provide a closer fit than half frame or frameless options.3
Half frame glasses blend the breathability of a frameless design with the durability provided by a full frame. Many half frame options come with an adjustable nosepiece feature allowing them to function and fit much like regular glasses. They are ideal for any application where both durability and an unobstructed line of vision are equally important.4
Frameless eyewear perfectly couple simplicity and style allowing them to work in applications and environments where a full field of vision is ideal, if not essential. Because they are lightweight and provide the wearer with an unobstructed view, they are excellent choices for those required to wear eye protection for extended periods of time.5
Goggles provide protection against a variety of different potential hazards, including things like chemical splash,
74 Occupational Health & Safety | JUNE 2022
www.ohsonline.com
Anatoly Menzhiliy/Shutterstock.com
flying particles, wind, sun glare and dust. No matter what unique protection your application or environment requires, with features like thermo and anti-fog lenses, open and close ventilation systems, and removable face shields, there are goggles to meet your needs.6
Over the spectacle eyewear is intended for those who require additional protection over their prescription glasses. They are designed with channels built in to accommodate another pair of temples, meaning you never have to remove your prescription glasses to comfortably achieve the protection you need.7
Readers are designed to better assist those who require both safety glasses and prescription lenses. Readers come in two forms, glasses and inserts, with anywhere from a 1.0+ to a 3.0+ magnification. Many options will also accommodate a personal prescription from an optometrist.8
Sealed and foam padded eyewear are often ideal options for dusty or windy work environments. Some sealed and foam padded eyewear products also come with features like sealed rubber gaskets, interchangeable temples, and goggle straps, which make them easily customizable.9
All these types of eye protection have their own pros and cons depending on the job to be done.
Eye Protection Features
There are several features that cross over the various types of safety eyewear that have an impact on their function and practical use. Worker preference can also play a role in which eyewear features matter.
The most important feature is safety standards. In the U.S. and other countries, PPE is required to meet certain safety standards to be used in some applications and on certain jobsites. In the U.S., that standard is ANSI. ANSI reevaluates its standards every five years and many manufacturers retest their products against the new standard at independent labs. Canada uses the CAN/ CSA standard and the EU/UK use the CE standard.
Lens Options
Lens color and treatments are the second most important feature to consider when choosing eye protection. Certain lens colors or treatments can make doing a job safer or easier. Each lens color lets in a specific amount of visible light which protects against harmful UV rays.10
Color is not the only variation that can happen with lenses. They can also feature different treatments-scratch resistance, anti-glare, and anti-fog coatings.
For specialized needs, there are also safety glasses available with polarized and photochromatic lenses. Polarized lenses help reduce glare, increase clarity and enhance contrast which is crucial for safety in settings around water.11 Photochromatic lenses are especially useful for workers who frequently go from indoor to outdoor areas as they darken when exposed to UV light.