Page 79 - OHS, June 2022
P. 79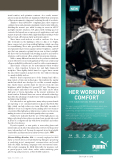 visual comfort, and optimizes contrasts. As a result, wearers' precision and productivity are maximized while their perception of their environment is sharpened, reducing the risk of accidents.
Thanks to their ANSI Z87+ compliant glass, these eyepieces optimize vision and guarantee maximum visual acuity, while also shielding the wearer's eyes while boosting its senses in all UV and light-sensitive situations. UV, glares, LED, welding gas, low contrasts, the hazards are as various as job applications, and each require its specific solution with a light transmission that provides the best trade-off between clarity and visual comfort.
These lenses work indoors as well as outdoors. For those who work indoors, the lighting is often too dim or too bright, lenses can protect eyes from artificial lighting, which can often be overwhelming. Those who spend their time working outside need guaranteed protection against intense brightness, and UV rays that can guarantee optimal vision even in direct sunlight. For those who are back and forth working in indoor and outdoor situations, safety eyewear offers optimal vision in any situation.
With so many different lens tints, how do you know which tint is most effective for your work application? There are a wide array of lenses available for either indoor and/or outdoor environments.
These kinds of lenses are for environments where workers tend to often transition between low and high luminosity workplace. These lightly shaded tinted or copper lenses ensure the smoothest transition and protect the eyes without reducing too much visibility indoors.
Outdoor lenses represent most of the demand and offer a large variety of tints and technologies. They include the regular smoke lens which was developed to act like a normal sunglass lens. Smoke lenses provide shade for the eyes from the sun's brightness, while blocking 99.9 percent UV rays. This improves visual comfort and reduces eye strain. The shade can be either dark gray or brown depending on the wearer's preference for visual comfort. Polarized lenses are a more advanced technology that offers the advantage of smoke lenses while minimizing glares and improving visibility.
For other indoor use applications, many safety eyewear brands are expecting to see continued interest in glasses that block blue light, which can help reduce eye strain. Blue light can make it difficult to focus on a computer screen, making users' eyes strain to concentrate. Blue light glasses help increase contrast on the screen, making it easier to focus and subsequently reduce eye strain.
Studies have indicated that the use of blue light glasses can help people sleep better, reduce eye strain, leave people who work in front of a computer all day with fewer headaches and reduce the risk of eye disease.
If you're required, or even prefer, to wear safety glasses and haven't taken a look at how the industry has evolved over the past few years, take another look. You may be surprised at just how helpful, comfortable, and functional your safety eyewear can be.
Julieann Billings-Riordan, M.A. is currently employed at Bollé Safety as North America's Trade Marketing Manager, specializing in marketing project management, communications and overall leads the NAM marketing campaigns with international teams. This includes managing the NAM deliverables for programs such as special projects, trade shows, online media marketing, print advertising, and promotions, within the PPE industries.
www.ohsonline.com
HER WORKING COMFORT
THE NEW MOTION PROTECT WNS
The sport-inspired WOMEN'S performance safety shoe line MOTION PROTECT is the perfect symbiosis of cushioning, energy return and design.
A new feature is the sole construction with the innovative IMPULSE.FOAM® midsole with anti-fatigue technology and an energy return of up to 55%.
NEW
COMPOSITE
SLIP RESISTANT
HRO SOLE
BREATHABLE
LADIES METAL FREE
puma-safety.com
Circle 26 on card.