Page 60 - OHS, June 2022
P. 60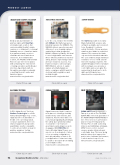 PRODUCT LAUNCH
HEALTH AND SAFETY/CLEANUP
Break down and eliminate oil
and fuel stains with New Pig's stormwater-safe solution. Our environmentally friendly formula requires no containment or cleanup! Gradually remove oil and fuel stains from pavement and concrete to eliminate rain runoff and sheen emissions. A stormwater-safe solution, the PIG Microbial Oil Stain Remover can enter storm drains without harming the environment
or risking a violation as BioBreaker microbes digest hydrocarbons through bioremediation, naturally converting them into water and harmless gases. www.ohsonline.com/productinfo
Circle 319 on card.
ALCOHOL TESTING
Q.E.D. Saliva Alcohol Test from OraSure Technologies is a CLIA- waived and DOT-approved, on-site, rapid and low-cost alternative to breath or blood testing. Q.E.D.
is easy to administer, there is no shared equipment and provides quantitative results comparable to a blood test. Q.E.D. is ideal for anytime, anywhere testing. www.ohsonline.com/productinfo
Circle 322 on card.
INDUSTRIAL VACUUMS
Lose the cord, enhance the benefits with Nilfisk's first battery-powered industrial vacuum, the VHB436. The VHB436 delivers speed, power, and efficiency to your cleaning regimen enabled by modular design and Nilfisk's Lithium-ion Battery. It's ideal for use in high-traffic environments where efficiency matters as much as safety, and uncompromising results are key to business success. Top features include cordless design, HEPA filtration options to safely capture potentially hazardous
dusts, compliance with EU and US electrical safety regulations and modular design. www.ohsonline.com/productinfo
Circle 320 on card.
SIGNAL TOWERS
Signal towers are ideal for various work places to identify potentially unsafe areas, environments, and situations. Alert workers with color coded visual signaling by identifying the safety and operational status of a machine or work area to
avoid injuries and dangerous work stoppages. With PATLITE's LR Series Modular Signal Towers, you can choose from a variety of sizes, colors, mounting configurations, and optional buzzer sounds to fit your application. Contact us today to speak to an expert about making your workplace safer. www.ohsonline.com/productinfo
SAFETY KNIVES
The OLFA Disposable Concealed Blade Safety Knife ensures safe cutting in a durable and convenient form. Designed for extreme
safety, this knife offers a premium stainless-steel blade in a shielded channel. This ensures the blade only meets the intended materials. The open channel design minimizes resistance for a tool that cuts two times the leading competitor. The durable fiberglass-reinforced handle with non-slip grooves provides a comfortable and secure grip. The symmetrical body allows for both right- and left-handed use. www.ohsonline.com/productinfo
Circle 321 on card.
FOOT PROTECTION
PUMA SAFETY MOTO PROTECT— Take pole position! The TOURING BLACK MID of the new generation of the PUMA SAFETY MOTO PROTECT line offers even more performance and motorsport feeling at work.
The Duo-PU sole with cushioning midsole and stabilizing, extra-large MTSP torsion control element ensures an absolutely safe and comfortable step. The inner lacing and the drivers heel support the perfect mix of ultimate performance, comfort and motorsport look. www.ohsonline.com/productinfo
Circle 324 on card.
54
Occupational Health & Safety | JUNE 2022
www.ohsonline.com
Circle 323 on card.