Page 59 - OHS, June 2022
P. 59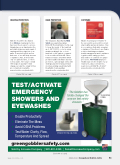 HEARING PROTECTION
With the TouchFree EcoStation from Moldex, hearing protection has never been easier to access. Simply place your hand under the automatic dispenser and a pair of earplugs will drop right into your palm. Convenient, quick access and ease of use will help increase compliance. Plus, workers take only one pair at a time, so there is less waste. The easy to install refill snaps in quickly for fast changeover and the empty bottles are completely recyclable. www.ohsonline.com/productinfo
Circle 316 on card.
HEAD PROTECTION
The V-Gard C1 Hard Hat by MSA Safety uses patent-pending ReflectIR Thermal Barrier technology to keep the inside of the hard hat up to 20°F (11°C) cooler in sunny weather, making it the coolest
hard hat on the market compared to those without ReflectIR. Other features include: a full brim which provides additional shade and sun protection, optional large vents with strategic placement and premium moisture-wicking sweat band with breathable foam padding. www.ohsonline.com/productinfo
SOFTWARE
What's Your Employee Health? To
be successful, your workforce must stay healthy and avoid injuries. How do you achieve that while ensuring compliance? Now there's a software solution that brings workplace health management and compliance together, while saving you time
and dollars on cumbersome paper processes. Net Health Employee Health improves the health of your employees, and your business. Learn more at ASSP Booth 2127 www.ohsonline.com/productinfo
Circle 318 on card.
Circle 317 on card.
TEST/ACTIVATE EMERGENCY SHOWERS AND EYEWASHES
"The Gobbler has totally changed the way we test safety showers."
TELESCOPING FUNNEL
• Double Productivity
• Eliminate The Mess
• Avoid OSHA Problems
• Test Water Clarity, Flow, Temperature And Spread
EYEWASH TESTING SOLUTIONS
greengobblersafety.com
Sold by Increase Company | 920-691-2496 | Sales@IncreaseCompany.com
Untitled-83 1
| 5/3/22 Occupational Health & Safety
53
www.ohsonline.com
JUNE 2022
12:534 PM
Circle 44 on card.