Page 15 - Seating & Positioning Handbook, 2021-2022
P. 15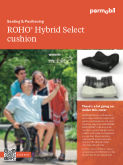 Seating & Positioning
ROHO® HybridSelect cushion
WINNER!
Learn more
There's a lot going on under this cover
ROHO Hybrid Select is Permobil's most advanced hybrid cushion with superior positioning. Its contoured foam base and patented ROHO DRY FLOATATION® technology work together to provide skin protection, stablity, positioning, and alignment you can trust. Plus an exclusive removable IT air insert provides optional offloading by simply detaching and removing.
Together, these attributes of great seating helped the Hybrid Select win the Mobility Product Award 2021.