Page 60 - FCW, November/December 2021
P. 60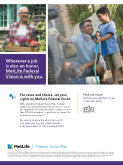 Wherever a job
is also an honor, MetLife Federal Vision is with you.
For value and choice, set your sights on MetLife Federal Vision
With a MetLife Federal Vision Plan, Federal employees and annuitants have access to one of the largest vision networks in the country — more than 131,000 providers — and have no copays for in-network eye exams.*
Be sure to choose the plan that's with you wherever you are. Open Season ends December 13, 2021, midnight EST.
Find out more:
MetLife.com/FEDVIP-Vision 1-888-865-6854
*As of July 1, 2021. Subject to frequency limitations. Like most group benefits programs, benefit programs offered by MetLife contain certain exclusions, exceptions, waiting periods, reductions, limitations and terms for keeping them in force. For more information please view the Federal Vision Plan Brochure, which will govern the cost of the plan and can be viewed by visiting MetLife. com/FEDVIP-Vision. Vision insurance is provided by Metropolitan Life Insurance Company, New York, NY (MetLife). Certain claim and network administration services are provided through Vision Service Plan, Rancho Cordova, CA (VSP). VSP is not affiliated with MetLife or its affiliates. L0921016569[exp0922][All States] ©2021 MetLife Services and Solutions, LLC.