Page 6 - Campus Technology, January/February 2020
P. 6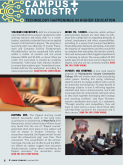 STACKABLE BACHELOR'S. EdX has introduced a new MicroBachelors program designed to offer working learners job-ready skills in a credit- backed, stackable credential that can be applied toward a full bachelor's degree. The program is launching with two offerings: IT Career Frame- work and Computer Science Fundamentals. MicroBachelors can be completed fully online within a matter of months and are priced between $500 and $1,500, or about $166 per credit. The curriculum is created by academic institutions "with input from industry leaders," to ensure that students gain "immediately trans- ferable skills for the workplace," according to a news announcement. READ THE FULL STORY ONLINE.
WORK VS. SCHOOL. American adults without postsecondary degrees are most likely to with- draw from college due to competing demands of school, employment and other responsibilities, according to a survey from Lumina Foundation, Strada Education Network and Gallup. And while the majority of respondents said they would like to complete their education, the barriers of work, time and money were their biggest impediments to returning to school. The survey polled 42,190 adults ages 25-64 who have some college but no degree, and who are not currently enrolled. READ THE FULL STORY ONLINE.
ESPORTS FOR EVERYONE. A new coed esports program at Montgomery County Community College (PA) will involve more than just playing video games. Starting this spring, Mustangs eSports will aim to engage students with a sense of community and inclusivity. "A major benefit of Mustangs eSports is that it will bring together students who have a shared passion, and it will encourage them to communicate with each other as they work together developing their strategy and resolving conflicts," said Ryan Plummer, esports coordinator and coach, in a statement. "Through practice and competition, they will learn to work well as a team. All of these skills will help them succeed in the classroom and in their careers." READ THE FULL STORY ONLINE.
6
CAMPUS TECHNOLOGY | Jan/Feb 2020
FLIPPING OUT. The flipped learning model doesn't necessarily work in the long term, according to an experiment at West Point (NY). Researchers at the United States Military Acad- emy found that the use of "flipped courses" generated short-term gains in one subject and had no impact in another. However, the researchers reported, the flipped model "broad- ened the achievement gap" over time. Their conclusion: "The exacerbation of the achieve- ment gap, the fade-out of effects and the differ- ent effects by subject suggest that educators should exercise caution when considering the flipped classroom," the researchers wrote. READ THE FULL STORY ONLINE.