Page 3 - Campus Technology, January/February 2020
P. 3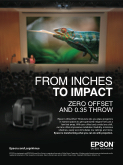 FROM INCHES
TO IMPACT
ZERO OFFSET AND 0.35 THROW
Epson's Ultra-Short Throw lens lets you place projectors in narrow spaces to get supersized images from just a few feet away. With zero offset and a wide lens shift, our lens offers impressive installation flexibility, minimizes shadows, easily accommodates low ceilings and more. Epson is transforming what you can do with projection.
Epson.com/LargeVenue
EPSON is a trademark and EPSON Exceed Your Vision is a registered logomark of Seiko Epson Corporation. All other product brand names are trademarks and/or registered trademarks of their respective companies. Epson disclaims any and all rights to these marks. Copyright 2020 Epson America, Inc.