Page 18 - CT Innovation in Education, November 2021
P. 18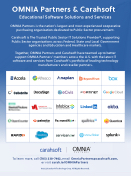 Educational Software Solutions and Services
OMNIA Partners is the nation's largest and most experienced cooperative purchasing organization dedicated to Public Sector procurement.
Public Sector organizations across Federal, State and Local Government agencies and Education and Healthcare markets.
support OMNIA Partners' members across the U.S. with the latest IT manufacturers and reseller partners.
.
To learn more, call (703) 230-7402, email OmniaPartners@carahsoft.com, or visit carah.io/OMNIAPartners
©2021 Carahsoft Technology Corp. All Rights Reserved.