Page 18 - CT Innovation in Education, July 2021
P. 18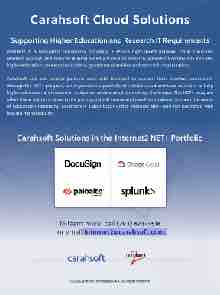 Carahsoft Cloud Solutions
Supporting Higher Education and Research IT Requirements
Internet2 is a non-profit community providing a secure high-speed network, cloud solutions, research support, and services tailored for education and research. Internet2's community includes higher education, research institutions, government entities and nonprofit organizations.
Carahsoft and our reseller partners work with Internet2 to support their member community through the NET+ program, which provides a portfolio of reliable cloud and trust solutions to help higher education and research institutions solve shared technology challenges. The NET+ program offers these solutions at exclusive pricing and with terms and conditions tailored to meet the needs of education institutions. Carahsoft is a distributor under Internet2 NET+ and has partnered with leading manufacturers.
Carahsoft Solutions in the Internet2 NET+ Portfolio
To learn more, call (703) 673-3518 or email Internet2@carahsoft.com.
©2021 Carahsoft Technology Corp. All Rights Reserved.