Page 26 - THE Journal, January/February 2018
P. 26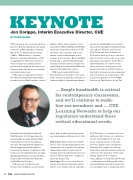 KEYNOTE
Jon Corippo, Interim Executive Director, CUE
BY DAVID NAGEL
CUE (cue.org) is an ed tech association on the move. Known nationally for its annual conference in Palm Springs (coming up March 14–17), which typically attracts 5,000 to 7,000 attendees — a massive figure for a regional organization — CUE is ramping up its efforts in several areas
in the coming year, including teacher professional development and advocacy of education issues like E-rate, net neutrality and student data privacy.
CUE is also an organization in transi- tion. When the non-profit's long-standing executive director, Mike Lawrence, stepped
affiliate of three major, national ed tech associations: ISTE, iNACOL and SETDA. Aside from its national conference, CUE also hosts a fall conference and several smaller events for administrators and teachers. It also operates "Rock Star Black Label Camps," which bring professional learning directly to schools. A single-year membership is free through mid-March for educators throughout the country.
THE Journal spoke with Interim Executive Director Corippo to get a sense of the direction in which the association is heading in light of organizational changes
systems for significantly better member interactivity and support without growing our staff size. With our new directors (Cate Tolnai and Jason Seliskar) our CUE staff is made up of more educators than ever before (56 percent), so we truly understand our members' needs. We've added things like live chat for events,
and we now have a four-person social media team made up of CUE members that will be sharing awesome pedagogical and ed tech ideas via social media — this team has an aggregate of over 60,000 followers on Twitter alone. At our Fall
26
| JANUARY/FEBRUARY 2018
down from his leadership role this fall, Chief Innovator Jon Corippo stepped in
as interim ED. As of this writing, CUE's board had not yet chosen a permanent successor, but organizational changes are already happening, with the staff now composed of a majority of educators. (And for the record, Corippo himself is an Apple Distinguished Educator, Google Certified Teacher, Microsoft Innovative Educator and YouTube Star Teacher.)
CUE operates in California and Nevada, with 22 affiliates, and is itself an
and to find out what special surprises the upcoming national conference has to offer.
THE Journal: This is a big year for CUE. There's a lot of change happening in your organization, not to mention the ongoing change happening in the profession of teaching. Can you talk about the direction you see CUE heading in the coming year and in the longer term?
Jon Corippo: We are very excited about several developments internally, namely that we've modernized all our back-office
CUE Conference, we announced a new, multi-year effort to have our conferences become increasingly green (cue.org/ green), reducing our use of one-time
use items, plastics and recycling more effectively. For example, we will stop using plastic lanyards and stop giving out conference bags altogether. CUE is also making a huge effort to support
our 22 affiliates in California and Nevada — assisting them with things like bylaws and maintaining nonprofit status as well as event support and co-marketing efforts.
... Ample bandwidth is critical for contemporary classrooms, and we'll continue to mobi- lize our members and ... CUE Learning Networks to help our legislators understand these critical educational needs.