Page 27 - THE Journal, October 2017
P. 27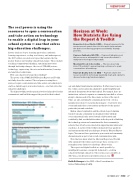 The real power is using the resources to spur a conversation and take action on technology to enable a digital leap in your school system — one that solves big education challenges.
history (such as deeper learning approaches, authentic learning experiences, coding as a literacy, and makerspaces), the 2017 edition revealed new topics that capture the big- picture themes surrounding educational change. These include teaching computational thinking, sustaining innovation through leadership changes, the rise of STEAM (science, technology, engineering, the arts and mathematics) learning and analytics technologies.
How can educators leverage these findings?
The power of the NMC/CoSN Horizon Report and Toolkit isn't fully about the content. The real power is using the re- sources to spur a conversation and take action on technology to enable a digital leap in your school system — one that solves big education challenges.
The digital toolkit provides practical tools to help school leaders communicate and build the support they need for their technol-
ogy and digital transformation initiatives. It offers ideas to use in live, online, and social media channels to spark thoughtful and informed discussions about what's ahead. For example, there are instructions on how to organize a community town hall or a focus group to discuss each of the three major sections of the report. There are also customizable communications tools — from a sample press release to social media messages — to promote your events and make these conversations productive for the partici- pants who join and contribute.
Dialog, shared exploration and the critical steps of aligning trends to specific community needs and priorities will help
every educational leader move forward collaboratively and confidently. And, as stakeholders share in the key work of building the technology vision and commitment for their community's schools, they often become invested in supporting innovation and excellence. A section of the toolkit is dedicated to key questions and statements that will open dialogue about the Horizon Report topics. You can use these questions in your events and community discussions and as part of an overall communications plan.
Now that you know what the Horizon Report and Toolkit offer, jump into the future and leverage these resources to strengthen your district's technology efforts today.
The report and digital toolkit are made possible by mindSpark Learning, a nonprofit dedicated to evolving education through educators. The resources are available at: 2017-nmc-cosn-horizon-report-k12resources.org.
Keith R. Krueger is the CEO of the Consortium for School Networking (CoSN).
VIEWPOINT
OCTOBER 2017 | 27
Horizon at Work:
How Districts Are Using the Report & Toolkit
Beaverton School District (OR) — Beaverton presents the resources each year to the school board to help evaluate the district's technology progress and identify strategic priorities.
Cypress-Fairbanks ISD (TX) — Cypress-Fairbanks used the resources as a blueprint to help secure the district's multiyear technology bond program.
Mountain Brook Schools (AL) — The resources help kick off the district's annual learning conference to spark conversations all weeklong.
Raytown Quality Schools (MO) — Raytown shares the resources with its technology leadership team and cabinet to discuss technology trends and plans.