Page 5 - Security Today, January/February 2021
P. 5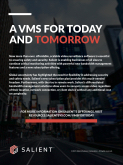 —
Now more than ever, affordable, scalable video surveillance software is essential
to ensuring safety and security. Salient is enabling businesses of all sizes to
continue critical monitoring activities with powerful new bandwidth management
features and a new subscription offering.
Global uncertainty has highlighted the need for flexibility in addressing security
and safety needs. Sa|ient's new subscription plan provides this much-needed
freedom. Furthermore, with the rise in remote work, Sa|ient's differentiated
bandwidth management solutions allow users to securely access video regardless
of their location, network connection, or client device without any additional cost
or complexity.
FOR MORE INFORMATION ON SAL|ENT'S OFFERINGS, VISIT
RESOURCES.SAL|ENTSYS.COM/VMSFORTODAY
 
  S A L I E N T W ©2021 Salient Systems Corporation. All rights reserved.