Page 21 - Security Today, October 2020
P. 21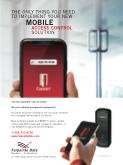 THE ONLY THING YOU NEED TO IMPLEMENT YOUR NEW
MOBILE
ACCESS CONTROL
SOLUTION
Just your smartphone's phone number.
(No post-credential management requirements.)
No portals. No private information. No unsecured credentials. No jerry-rigged implementation. No hassles.
Made by Farpointe Data, the CONEKT® solution—potted, mobile-ready RFID readers and companion credentials—is only available through your favorite integrator.
1-408-731-8700 www.farpointedata.com
The OEM's global partner for premium RFID solutions
© 2020 Farpointe Data, Inc.