Page 2 - Security Today, July/August 2020
P. 2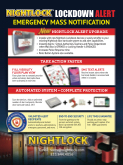 LOCKDOWN ALERT EMERGENCY MASS NOTIFICATION
NIGHTLOCK ALERT UPGRADE
TAKE ACTION FASTER
FULL VISIBILITY SMS TEXT ALERTS FLOOR PLAN VIEW
AUTOMATED SYSTEM = COMPLETE PROTECTION
UNLIMITED ALERT RECIPIENTS Automatically send instant
alerts to teachers, administrators, emergency personnel, and more.
END-TO-END SECURITY
From the gateway to the sensors and alert system, Data is protected with AES 128-encryption.
LIFE TIME GUARANTEE
Should any sensor stop working, we'll replace it for free. 100% guaranteed.