Page 91 - Security Today, July/August 2018
P. 91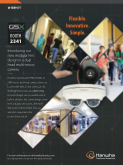 BOOTH
2341
Introducing our new modular lens design in a dual head multi-sensor camera
Hanwha's new Wisenet PNM-7000VD 2x 2MP sensors dual head camera allows you to select the field of view on the job site. With high frame-rates, true WDR (Wide Dynamic Range) and a powerful suite of built-in analytics, this camera brings a new level of quality and value to the multi- directional camera market. Visit our website to experience the
power of innovation!
Flexible. Innovative. Simple.
For more information visit HanwhaSecurity.com
Go to http://sp.hotims.com and enter 14 for product information.