Page 83 - Security Today, July/August 2018
P. 83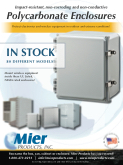 Impact-resistant, non-corroding and non-conductive Polycarbonate Enclosures
Protect electronics and wireless equipment in outdoor and extreme conditions!
IN STOCK 80 DIFFERENT MODELS!
Mount wireless equipment inside these UL Listed, NEMA rated enclosures!
You name the box, can, cabinet or enclosure: Mier Products has you covered!
1-800-473-0213 | info@mierproducts.com | www.mierproducts.com
Go to http://sp.hotims.com and enter 4 for product information.