Page 57 - Security Today, July/August 2018
P. 57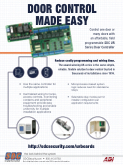 DOOR CONTROL MADE EASY
Control one door or many doors with an affordable, field programmable SDC UR Series Door Controller
Reduce costly programming and wiring time.
• •
Use the same controller for multiple applications
Centralized wiring for locks, access controls, monitoriing contacts and peripheral equipment provide easy troubleshooting and enable uniformity for multiple installation applications
The award-winning UR series is the same simple, reliable, flexible solution to door control trusted in thousands of installations since 1998.
• Microprocessor-based system logic reduces need for standalone relays
• Selectable relay modes permit installer configuration per application requirements
http://sdcsecurity.com/urboards
the lock behind the system
SDCSecurity.com • 800.413.8783
Distributed By
Security Door Controls
Go to http://sp.hotims.com and enter 506 for product information.