Page 55 - Security Today, July/August 2018
P. 55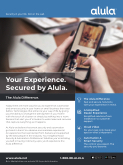 Security in your life. Not on the wall.
Your Experience. Secured by Alula.
The Alula Difference.
The Alula Difference
Fast and secure. Solutions with your experience in mind.

Dealer Experience
 
installation to customer support.

For your eyes only. Keep your eyes on what's important.
Automation &
Smart Security
The control you expect. The security you deserve.
Today there are more ways for you to experience automation and smart security in your home or small business than ever before. Technologies that enhance your way of life by giving you the ability to change the atmosphere in your home
with the touch of a button or simply by walking into a room. Sensors that alert you of intruders to water leaks and cameras that capture everything as it happens.
At Alula we believe that smart security and automation
go hand in hand. You deserve one seamless experience!
An experience that is protected from hackers and supported by the best people in the industry. Your neighborhood Security & Automation Professional. Whether you're installing yourself or having it done by a pro, you'll experience the Alula difference.
www.alula.net 1-888-88-ALULA
Go to http://sp.hotims.com and enter 503 for product information.