Page 39 - Security Today, July/August 2018
P. 39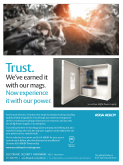 Securitron AQD6 Power Supply
Trust.
We've earned it with our mags. Now experience it with our power.
For the past 40 years, Securitron has earned customer trust by providing quality, reliable magnalocks. Even though our name has changed, we strive to continue providing products you can count on, and our new line of AQ Power Supplies is no exception.
Covered by the best-in-class MagnaCare warranty and offering mix and match UL listings, this new line of power supplies can be tailored to suit your precise access control needs.
You've relied on Securitron and ASSA ABLOY for your access control needs before, why should power be any different? Discover ASSA ABLOY Power today.
www.assaabloyesh.com/aqpower
800.626.7590 | assaabloyesh.com/solutions | Go to http://sp.hotims.com and enter 35 for product information.