Page 37 - Security Today, July/August 2018
P. 37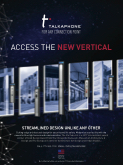 FOR ANY CONNECTION POINT
ACCESS THE NEW VERTICAL
STREAMLINED DESIGN UNLIKE ANY OTHER
Cutting-edge architectural design for security and life safety. Modernize your facility with the newest in blue light access and communication. The Via Pedestal is a 2017 international award winner of Good Design Award from The Chicago Anthenaeum: Museum of Architecture & Design and The European Centre for Architecture Art Design and Urban Studies.
CALL: 773-539-1100 EMAIL: INFO@TALKAPHONE
PROUDLY MADE IN THE USA
Go to http://sp.hotims.com and enter 17 for product information.