Page 87 - OHS, June 2022
P. 87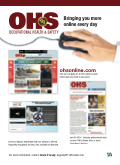 Bringing you more online every day
Increase industry knowledge with our webinars, offered frequently throughout the year. Also available on demand.
Join 65,000+* industry professionals who receive OH&S eNews twice a week.
*Media Owner's Own Data
For more information, contact: Kevin O'Grady, kogrady@1105media.com
ohsonline.com
Visit our site daily for all the health & safety information you need in one place!