Page 59 - OHS, November/December 2021
P. 59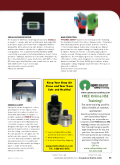 SOCIAL DISTANCING DEVICE
The body-worn Orbi-Trace smart tag introduced by CASELLA is simple to operate, with a stop/start input and single LED power alert. It gives the wearer fully configurable vibration and audible alerts whenever a safe distance is breached, and the safe distance can also be configured according to local guidance. The sophisticated Ultra-wideband (UWB) connectivity is accurate in detecting distances down to 10cm accuracy – making it 20 times more accurate than Bluetooth. The connectivity will not cause interference with WIFI or other RF technologies and Orbi-Trace can operate indoors and out, with a battery life of up to seven days. www.ohsonline.com/productinfo
HAND PROTECTION
PYRAMEX SAFETY launches its newest glove line featuring the Insulated Corded Cotton Glove. Pyramex's line of insulated and safety-rated winter gloves include a diverse selection
of cut-resistant dipped, leather and corded gloves. Dipped gloves have become a game-changer for hand safety in the workplace. Pyramex's new line of insulated dipped gloves includes several offerings ideal for a variety of industries and applications. The new dipped gloves are constructed from either latex or nitrile, each designed to be cut, puncture and abrasion resistant. The hi-vis GL504 glove features a latex sandy palm coating, 10-gauge acrylic liner and offers a good grip in all conditions.
www.ohsonline.com/productinfo
CIRCLE 352 ON CARD
CIRCLE 351 ON CARD
RP_Filtermist_Ad_OHS_852.qxp_Layout_1.qxd 1/7/
www.opensourcesafety.com
FREE Online HSE
Training!
The same training used for 100s of 1000s of trainees, worldwide!
OpenSourceSafety has partnered with Consolidated Digital Publishing, Inc. to provide our customers with FREE On-Line HSE training. Anyone can access the free Training through a specific page designed just for you and your firm. You can access 100+ free training courses by creating a username and password – no payment or billing information required.
CDP Inc. www.safeworkday.com 713.305.7648
Keep Your Shop Air Clean and Your Team Safe and Healthy!
 Low-Cost Highly Efficient Mist and Smoke Collectors for CNC's
 Minimal Maintenance
 In Stock for Same-Day Shipping
www.mistcollectors.com Tel: 1-800-645-4174
CHEMICAL SAFETY
Canopy Hoods are designed to collect and exhaust corrosive vapors, heat, steam and odors when mounted over areas with water baths, hot plates or portable equipment. HEMCO'S Canopy hoods are available in wall, island and corner canopy models. Manufactured of molded one-piece composite resin, fiberglass canopy hoods are lightweight and can be wall-mounted or suspended from the ceiling over island locations. The canopy fume hood's glass smooth surfaces provide superior chemical, corrosion and heat resistance. Optional side panels prevent cross drafts and further improve airflow while providing a way to contain chemical spills. www.ohsonline.com/productinfo
CIRCLE 353 ON CARD
www.ohsonline.com
NOVEMBER/DECEMBER 2021 | Occupational Health & Safety 55
Circle 19 on card.
Circle 9 on card.