Page 57 - OHS, November/December 2021
P. 57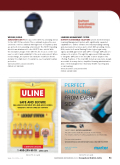 WELDING SHIELD
SUNDSRÖM SAFETY introduces the SR 574, a welding shield for the SR 570 face shield. This combination gives the user excellent comfort combined with high level of respiratory and eye protection in a welding environment. The SR 574 welding shield is an attachment for the SR 570 face shield. With
the innovative design of the SR 570, the focus is on the end user's comfort and suitability for the work environment. When needs change, the system can easily be modified to fit the demand for a high level of respiratory, eye, head and hearing protection.
www.ohsonline.com/productinfo
CIRCLE 347 ON CARD
π
SAFE AND SECURE
FULL LINE OF LOCKOUT KITS AND ACCESSORIES ORDER BY 6 PM FOR SAME DAY SHIPPING
LEARNING MANAGEMENT SYSTEM
DUPONT SUSTAINABLE SOLUTIONS unveils its Best-in-Class Learning Management System with significantly expanded capabilities to further enhance the industry-leading learning and development services and content DSS providing clients. DSS, under its Coastal Training Technologies legal entity, signed an OEM agreement with SAP to leverage SAP Litmos to enhance its solution. Through this agreement, DSS was able to integrate SAP Litmos into its LMS solution as part of its offering. Features of the new LMS include a responsive design accessible from any device, simplified learning administration and content management, robust and flexible reporting and social learning.
www.ohsonline.com/productinfo
CIRCLE 348 ON CARD
PERFECT HANDLING. FROM EVERY SIDE.
SAFETY KNIFE SECUPRO MAXISAFE.
The all-rounder with the practical 3-sided-slider.
For a wide variety of cutting applications and materials.
For more information:
www.martorusa.com | info@martorusa.com | 920.662.9646
MADE IN SOLINGEN, GERMANY
www.ohsonline.com
NOVEMBER/DECEMBER 2021 | Occupational Health & Safety 53
COMPLETE CATALOG
1-800-295-5510 uline.com
Circle 13 on card.
Circle 10 on card.