Page 41 - OHS, November/December 2021
P. 41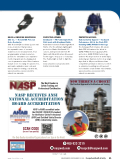 NOISE & VIBRATION MONITORING
SKC Inc. — NoiseCHEK Personal Noise Dosimeter
SKC NoiseCHEK is a Class 2 personal noise dosimeter that provides incomparable ease of use and seamless noise measurement. Four programmable virtual dosimeters provide for simultaneous compliance monitoring and can be displayed at once in parameter view. Other features include voice recording for quick notes, automatic calibration and on-board history data for viewing or download. www.ohsonline.com/productinfo CIRCLE 331 ON CARD
PROTECTIVE APPAREL
GlenGuard — FR Featherlight Work Shirt made with GlenGuard Fabric Ariat flame-resistent Featherlight Work Shirts offer the ultimate lightweight protection. Made GlenGuard 5.3 ounces, 100 percent inherent FR fabric with Wickz Moisture Movement Technology to keep you cool and dry. The Featherlight is built to fight the heat. www.ohsonline.com/productinfo CIRCLE 332 ON CARD
PROTECTIVE APPAREL
National Safety Apparel — ArcGuard Performance 40 Cal Arc Flash PPE featuring GORE PYRAD Technology
The ArcGuard Performance 40 cal arc flash PPE kit features the latest in
GORE PYRAD technology and CAT 4 protection. GORE PYRAD technology delivers 40 cal protection in a thin layer, delivering arc flash protection in a single layer that is 48 percent thinner than competitive premium solutions. Comfort is optimized resulting in a 39 percent more flexible solution than other brands. www.ohsonline.com/productinfo
CIRCLE 333 ON CARD
The World Leader in
Safety Training and Professional Certification
NASP receiveS ANSi national accreditation BoArd AccreditAtioN
NASP is ANAB accredited under the ISO/IEC 17024:2012 standard for the Master Safety Professional (MSP) and Certified Safety Director (CSD) credentialing exams.
SCAN CODE (to see if you qualify)
The Only Dually Accredited Organization of our Type in the World
NoW tHere'S A cHoice!
The Practical Approach to Certification and Training
800-922-2219
naspweb.com naspcb@naspweb.com
www.ohsonline.com
NOVEMBER/DECEMBER 2021 | Occupational Health & Safety 41 6/25/21 12:45 PM
Untitled-9 1
Circle 17 on card.