Page 39 - OHS, November/December 2021
P. 39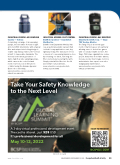 INDUSTRIAL HYGIENE: AIR SAMPLING
Casella — Vortex3
Completing our range of air sampling pumps, the innovative Vortex3 is right
at home! With 12L/minute with a typical filter and unique interlocking design to enable easy transportation, the Vortex3 is built to impeccable standards. The Vortex3 is the latest generation of static, high flow rate sampling pumps, which can now be controlled and monitored from your mobile phone
or tablet using the Airwave App and Bluetooth connectivity. www.ohsonline.com/productinfo
CIRCLE 322 ON CARD
INDUSTRIAL HYGIENE: DUST CONTROL
EXAIR Corporation — EasySwitch Wet-Dry Vac
EXAIR's new EasySwitch Wet-Dry Vac
is a powerful pneumatic vacuum that
is ideal for any application—wet, dry, light and heavy. The fast and tool-less conversion to vacuuming liquids is done by releasing one latch, removing the filter element and securing the latch. Simply reinstall the filter into the lid assembly for dry materials. www.ohsonline.com/productinfo
CIRCLE 323 ON CARD
INDUSTRIAL HYGIENE: GAS MONITORS
Industrial Scientific Corp. — Tango TX2 Two-Gas Monitor
The Tango TX2 is a new two-gas monitor that increases site safety by allowing users to detect two gases with one small, reliable monitor. The Tango TX2 helps organizations reduce project shutdowns from false alarms, increase worker trust in gas monitors and minimize time spent on monitor charging and maintenance. www.ohsonline.com/productinfo CIRCLE 324 ON CARD
Take Your Safety Knowledge to the Next Level
A 3-day virtual professional development event The cost to attend...just $25 USD
It's professional development for all
May 10-12, 2022
SCAN TO REGISTER
BCSPGLS.COM
www.ohsonline.com
NOVEMBER/DECEMBER 2021 | Occupational Health & Safety 39 10/2/21 10:12 AM
Untitled-28 1
Circle 3 on card.