Page 52 - OHS, March 2021
P. 52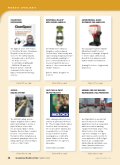 PRODUCT SPOTLIGHTS
CLEANSPACE RESPIRATORS
The Highest Level of Protection for Frontline Workers CleanSpace Respirators are the perfect choice for the safety industry.
• Reusable and cost-effective
• No belts or hoses
• Comfortable & lightweight
• NIOSH & CE approved
Request a Demo: Sales@ cleanspacetechnology.com. https://cleanspacetechnology. com/us/
Circle 315 on card.
SRC360 RAILING SYSTEM
The SRC360 railing system utilizes weighted cast iron base plates and railings to act as a physical fall protection bar-
rier around workplace safety hazards. Workers have complete freedom of movement inside
the barrier. When installed as a permanent guarding solution, the railing system protects all trades on the roof 24/7/365.
Circle 318 on card.
HONEYWELL MILLER® H500 SERIES HARNESS
The H500 Series Harness integrates evidence-based "best-in-class" anatomically and ergonomically designed pressure- relief breathable padding for more comfort and freedom of movement and introduces a variety of other new smart and intuitive features.
Built for Safety, Designed for Comfort.
Circle 316 on card.
JUST PUSH & TWIST TO FIND YOUR FIT
Glide earplug's patented stem delivers a quick and effortless fit. Plus its large handle makes insertion and removal easy.
Trio model can be washed and reusedand the no-roll Foam model is ideal for workers wearing gloves or with dirty hands. Made in U.S.A. and 100% PVC-Free for a greener alternative.
www.moldex.com/glide
ANTIMICROBIAL HL400 DISPENSER FOR EARPLUGS
Introducing Honeywell's HL400- AM Antimicrobial-Protected Dispenser for earplugs designed to meet today's safety needs. Benefit from a dispenser with built-in enhanced cleanliness.
Hearing Protection – Hygienically Dispensed.
Circle 317 on card.
ANCHORS FOR SAFE BUILDING MAINTENANCE & FALL PROTECTION
Kee Rigid Anchors provide fall arrest solutions for tie-back applications such as suspended platforms, window washing, equipment tie-back, and rooftop fall protection. 5 mounting options for multiple roof types and 3 diverse anchor points for every application. All Kee Rigid Anchors are compliant with OSHA, ANSI & Cal/OSHA codes. https://www.keesafety.com/ products/kee-rigid-anchors
Circle 320 on card.
48
Occupational Health & Safety | MARCH 2021
www.ohsonline.com
Circle 319 on card.