Page 41 - OHS, March 2021
P. 41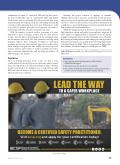 combination of smart or "connected" PPE and big data can be the next evolutionary step in occupational safety and health. Technologies such as automatic fit-testing and real-time noise monitoring may also help speed up the onboarding and training of workers while enhancing their protection. Furthermore, it will be possible to monitor personal sound exposure over time to avoid health problems caused by cumulative exposure.
With the number of remote workers increasing, it is more important to have a hearing solution that not only protects workers, but also gives safety managers in the command center the information they need. The data generated can help safety managers improve their companies' hearing loss prevention programs and develop a personalized approach to worker safety. Safety managers can gain real-time insights into noise exposure, monitor patterns, alert workers to daily noise limits and reduce time-consuming administrative and reporting procedures, all while keeping a safe distance
Conclusion
The best hearing protection device is the one that is worn comfortably and correctly 100 percent of the time, and we cannot forget the important role that personalization plays. Workers should be involved in the fitting process to help find the right HPD and take an active role in protecting their own hearing when in hazardous conditions.
Enabling the proper selection of earplugs or earmuffs, offering various styles and sizes, monitoring sound exposures and protection levels regularly and training workers individually on how to achieve a personal fit for the greatest attenuation all contribute to a successful hearing conservation program that will keep workers safe from harmful noise.
While the hearing protection devices you provide may deliver high attenuation ratings and quality, noncompliance, improper fit and a reliance on lagging indicators all play a role in the ongoing struggle to adequately protect workers' invaluable sense of hearing. By focusing on leading indicators and taking a personal approach to hearing loss prevention, we can help reduce the staggering number of workers affected by NIHL. That is a sound solution that workers, their families, friends and employers can all agree on.
Jackie DiFrancesco, AuD, is an Advanced R&D Engineer/Scientist at Honeywell.
REFERENCES
1. http://apps.who.int/iris/bitstream/handle/10665/260336/ 9789241550260-eng.pdf
2. https://www.cdc.gov/niosh/topics/noise/default.html
3. https://www.noiseandhealth.org/article.asp?issn=1463-1741;year=201
1;volume=13;issue=51;spage=132;epage=141;aulast=Murphy
LEAD THE WAY
TO A SAFER WORKPLACE
BECOME A CERTIFIED SAFETY PRACTITIONER.
Visit bcsp.org and apply for your certification today!
Untitled-12 1
1/5/21
37
www.ohsonline.com
7:28 PM
Circle 8 on card.