Page 39 - OHS, March 2021
P. 39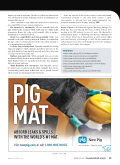 them for as long as necessary. ThThe fact is, if HPDs are removed for even a brief period of time, hearing protection and attenuation are dramatically reduced.
Here's a checklist to help employers make the best decision in choosing HPDs for noise-exposed employees:
Pay attention to attenuation. Choose earmuffs that offer high (NRR 31dB), medium (NRR 28dB) and low (NRR 24dB) attenuation. Bonus tip: color-coded earmuffs offer at-a-glance identification of attenuation levels.
Check for compatibility and interoperability. Make sure earmuffs work with existing industrial helmets, accommodate any type of visor or frame and are tested to the safety standard so as to maintain interoperability.
Look for long-wearing extras. Examine earmuffs for sealing rings and adapters, which optimize and relieve pressure on the ears, and check for foam-injected ear pads and other soft points of contact on and around the ears.
Embrace personal style. When earmuffs look good (aka, modern and sleek) workers are more likely to want to don them. Matte finishes tend to be a popular look because they minimize the look of wear-and-tear.
Think flexibility and convenience. Self-adjustable options let wearers get a semi-custom fit, while earmuffs that can be conveniently parked when doffed then just as quickly donned when needed are much appreciated by wearers.
Here's the best tip of all: if you're ready to take your hearing conservation program to the next level, contact a safety representative to discover how new, higher-attenuated, cap- mounted earmuffffs protect workers' hearing.
Dennis Capizzi is the Industrial Segment Marketing Manager for Head, Eye, Face and Hearing Protection at MSA, and has been working in the PPE industry for over 12 years. He obtained his undergraduate degree in Marketing and Business Management from Clarion University of Pennsylvania in 1997 and his MBA from the University of Pittsburgh in 2015. He has authored/co- authored numerous articles on the dangers present in the workplace and how to best mitigate these dangers.
REFERENCES
1. https://www.osha.gov/SLTC/noisehearingconservation/
2. https://www.cdc.gov/niosh/topics/noise/default.html
3. https://www.cdc.gov/niosh/topics/ohl/default.html
4. https://www.ncbi.nlm.nih.gov/pmc/articles/PMC4830069/
5. https://hearinghealthfoundation.org/hearing-loss-in-the-workplace/
6. https://www.osha.gov/laws-regs/regulations/ standardnumber/1910/1910.95
7. https://www.ncbi.nlm.nih.gov/pmc/articles/PMC4671486/
PIG MAT
ABSORB LEAKS & SPILLS WITH THE WORLD'S #1 MAT.
Visit newpig.com or call 1-800-HOT-HOGS®.
One Pork Avenue • Tipton, PA 16684
Untitled-3 1
MARCH 2020
| 1/26/21 3:24 PM Occupational Health & Safety 35
www.ohsonline.com
Circle 13 on card.