Page 25 - OHS, March 2021
P. 25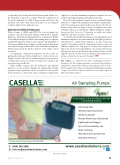 to physically verify voltage inside an electrical panel. In this case, the electrician is exposed to voltage. With the combination of the try/test and thru-door LED voltage presence indicators, the mechanic can solely verify when the panel is in an energized condition without any voltage exposure.
Authorized and Affected Employees
When it comes to OSHA and LOTO, the code recognizes two categories of people that need training: Authorized & Affected Employees. Under the training mandated to companies by OSHA, "Each authorized employee shall receive training in the recognition of applicable hazardous energy sources, the type and magnitude of the energy available in the workplace, and the methods and means necessary for energy isolation and control. Each affected employee shall be instructed in the purpose and use of the energy control procedure."
To summarize, "authorized employees" are those who are applying the locks and "affected employees" are those in the area during a lockout. The latter can range anywhere from operators to third-party contractors. If they are within the vicinity of the procedure, they are affected.
While OSHA requires that all authorized and affected employees receive periodic training, the implemented training program at any organization can be customized to meet precise needs. However, as previously stated, companies training their
employees to meet the minimum compliance standards does not result in achieving maximum safety and productivity.
Even before the pandemic, employers were consistently failing upwards to comply with minimum performance requirements, and it is becoming more apparent that we're far past the time for them to adopt safety-by-design solutions. Companies must start looking at safety as an investment. OSHA's Regulatory Analysis has proven that for every $1 invested in health and safety, employers can expect a return of $4 to $6.
A robust Electrical Safety Program goes beyond legislation and minimum compliance. An environment that is highly productive and efficient is a culture where employees are safe, secure and cared for. According to the U.S. Department of Labor, a safe and healthy workplace not only protects workers from injury and illness, but can also lower injury/illness costs, reduce absenteeism and turnover, increase productivity and quality and raise overall employee morale. In other words, fostering a safety culture is not just a good practice, it is good for business.
Nick Schiltz is a copywriter for Grace Technologies located in Davenport, IA. The company specializes in electrical safety products andpredictivemaintenancesolutions.DuringhisfiveyearsatGrace, Nick has published more than two-hundred and fifty blog posts ranging in topics from electrical safety best practices to the future impact of IIoT in the industrial space.
Air Sampling Pumps
13 Pratts Junction Road, Sterling, MA 01564-2305
Global experts in the manufacture and sale of monitoring solutions
Intrinsically Safe
Wireless data transmission Simple to Operate
Remote Monitoring via Bluetooth Lightweight and Rugged
Up to 35 Hours Battery Life Motion Sensing
IP65 Harsh Environment Use High Back Pressure
T: (800) 366 2966 www.casellasolutions.com E: info-us@casellasolutions.com
Untitled-6 1
21
www.ohsonline.com
1/22/21 11:57 AM
Circle 6 on card.