Page 31 - OHS, May 2020
P. 31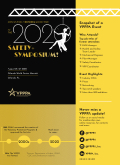 JOIN US FOR A ROARING GOOD TIME AT
THE
SAFETY+ SYMPOSIUM!
August 25–27, 2020
Orlando World Center Marriott Orlando, FL
Snapshot of a VPPPA Event
Who Attends?
Top job titles of former attendees:
EHS Manager
Health and Safety Team Leader
Mechanical Engineer Plant Manager Safety Coordinator
VPP Coordinator
Event Highlights:
Industry CEUs
Prizes
Networking
Top-notch speakers
More than 200 exhibitors
Never miss a
VPPPA update!
Follow us on social media
for membership news,
safety resources, fun contests and more...
@VPPPA @VPPPA @VPPPA_Inc
VPPPA, Inc.
CIRCLE 23 ON CARD
1982: OSHA announced the creation of the Voluntary Protection Programs & approved the first site.
2000s
Much more to come...
2020
1984: The VPPPA *Sources: Department of Labor, OSHA, was formed. CDC and Smithsonian websites.