Page 25 - GCN, May 2016
P. 25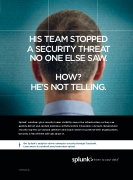 HIS TEAM STOPPED A SECURITY THREAT NO ONE ELSE SAW.
HOW?
HE'S NOT TELLING.
Splunk® solutions give security teams visibility across the infrastructure so they can quickly detect and contain malicious activity before it becomes a breach. Government security experts use Splunk software and cloud services to protect their organizations, but only a few of them will talk about it.
Get Splunk's analytics-driven enterprise security through Carahsoft. Learn more at carahsoft.com/innovation-splunk
© 2016 Splunk Inc.