Page 23 - GCN, May 2016
P. 23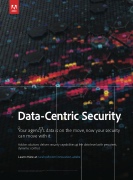 Data-Centric Security
Your agency's data is on the move, now your security can move with it.
Adobe solutions deliver security capabilities at the data-level with persistent, dynamic control.
Learn more at carahsoft.com/innovation-adobe
Adobe, the Adobe logo are trademarks or registered trademarks of Adobe Systems Incorporated in the United States and/or other countries. © 2016 Adobe Systems Incorporated. All rights reserved.