Page 60 - FCW, November/December 2020
P. 60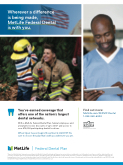 Wherever a difference is being made, MetLife Federal Dental is with you.
You've earned coverage that offers one of the nation's largest dental networks.
With a MetLife Federal Dental Plan, federal employees and annuitants receive discounts of up to 45%* and access to over 472,000 participating dentist locations.
When Open Season begins November 9, 2020 EST. Be sure to choose the plan that's with you wherever you are.
Find out more:
MetLife.com/FEDVIP-Dental 1-888-865-6854
*Based on MetLife data. Savings from enrolling in the MetLife Federal Dental plan will depend on various factors, including the cost of the plan, how often you visit the dentist and the cost
of services rendered. Like most group benefits programs, benefit programs offered by MetLife contain certain exclusions, exceptions, waiting periods, reductions, limitations and terms for keeping them in force. For more information please view the Federal Dental Plan Brochure, which will govern the terms of the plan and can be viewed by visiting MetLife.com/FEDVIP-Dental L0920007634 [exp0921][All States] © 2020 MetLife Services and Solutions, LLC.