Page 6 - FCW, July30, 2016
P. 6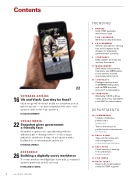 Contents
16VETERANS AFFAIRS
VA and VistA: Can they be fixed?
VA's homegrown electronic health record system is at an inflection point — one that encapsulates the state of the agency's entire technology operation
BY AISHA CHOWDHRY 22SOCIAL MEDIA
Snapchat gives government a friendly face
A handful of agencies are experimenting with the ephemeral photo-sharing service to reach younger audiences, and they're doling out information with a healthy dose of entertainment and emojis
BY BIANCA SPINOSA
26BOOKSHELF
Building a digitally savvy workforce
To secure much-needed digital professionals, government agencies must train as well as recruit
BY WILLIAM D. EGGERS
6 July 30, 2016 FCW.COM
22
TRENDING
3 BUDGET
Scott: ITMF paybacks won't be an issue
FCW CALENDAR
Where you need to be next
8 PROCUREMENT
Telecom transition is coming fast, and Congress mulls changes to 'inherently governmental' activities
9 STANDARDS
DOD updates its enterprise services framework
10 MANAGEMENT
GAO doesn't trust census financials, and IARPA wants to use sensors to track employee performance
11 CONTRACTS
Pentagon raises payout in DHMSM hosting deal, and an OMB nominee looks to IT modernization
12 OVERSIGHT
Watchdog: USCIS e-filing needs work. Plus, lawmakers press HHS on ransomware.
DEPARTMENTS
14 COMMENTARY
5 habits of effective power users
BY MARK DeROSA
Tech in the service of performance measurement BY STEVE KELMAN
29 DRILL DOWN
The push for enterprise risk management
BY LAURA JACKSON AND JOHN DUNCAN
31 EXEC TECH
Cloud security: Learning to trust the facts
BY MARK PIETRASANTA
33 FCW INDEX
34 BACK STORY
How much modernization could the ITMF support?