Page 5 - FCW, July30, 2016
P. 5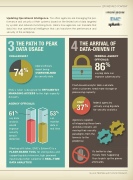 Updating Operational Intelligence. Too often agencies are managing the per- formance and security of their systems based on the limited set of data targeted by system and network monitoring tools. Here's how agencies can translate that data into true operational intelligence that can transform the performance and security of the enterprise.
SPONSORED CONTENT
3THE PATH TO PEAK DATA USAGE
CHALLENGES?
74%
EMC's Isilon is designed for EFFICIENTLY MANAGING ACCESS to the high-capacity datasets
federal officials report being OVERWHELMED
by security data
AGENCY OFFICIALS:
61%
say data analysis would improve security breach detection
53%
can monitor data in real time
Working with Isilon, EMC's ExtremIO is a FLASH-BASED TOOL for storing data and supporting data-intensive, high powered input/output often called for in REAL-TIME DATA ANALYTICS
4 THE ARRIVAL OF DATA-DRIVEN IT
FEDERAL AGENCY OFFICIALS:
say big data can improve cybersecurity
Flash-based analytic tools calculate when customers need more storage or processing capacity.
ONLY federal agencies 37% actively using big data
for security analytics
Agencies capable
of integrating these to
s and data streams are moving their security
s
It's better to stop
threats from happening than to pick up the pieces
afterwards
o
l
o
o
l
paradigms from the forensic to the predictive
Source: MeriTalk and Forrester Research.