Page 34 - FCW, July30, 2016
P. 34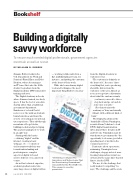 Bookshelf
Building a digitally
savvy workforce
To secure much-needed digital professionals, government agencies must train as well as recruit
BY WILLIAM D. EGGERS
Suzanne Butler works in the
U.K. Department for Work and Pension's Fraud, Error and Debt Division, where she manages
an IT team. She's also the 100th student to graduate from the Digital Academy, DWP's innovative training endeavor.
The Digital Academy in Leeds, where Suzanne trained, is a lively space. It has the feel of a modern startup rather than a traditional government department. Rainbows of colored Post-it
notes cover the walls as students brainstorm ideas and learn the secrets of creating an exceptional user experience. They sift through mountains of Lego blocks, building models and prototyping. The goal is learning how to work in an agile way.
Starting with the basics
— defining "digital" and the internet, creating a basic webpage, etc. — cohorts of civil servants work their way toward understanding and practicing more complex aspects of digital tech and service delivery over a six-week course.
As well as technical expertise, academy graduates also take away large doses of digital culture
— working collaboratively in a flat, multidisciplinary team, for instance, and putting the customer at the heart of their work.
While she learned many digital tools and techniques, the most important thing Butler took away
from the Digital Academy is customer focus.
"The customer is definitely at the heart of it," she says, "since everything that you're producing should be driven from the customer or the user. Almost as soon as you get into a discussion about what the customer wants,
you know you need to take a step back and go out and do
some user research." She characterizes the
academy as "busy and visually vibrant, with a different kind of
buzz."
The Digital Academy is the
brainchild of Kevin Cunnington, recruited from Vodafone to lead DWP's digital transformation. After almost three decades in IT and telecom, Cunnington says he was drawn to government by "the opportunity to do some good after spending most of my life in the commercial sector."
Passionate about open-water swimming, Cunnington loves challenges; choppy water at near- freezing temperatures is just one of them. It's the same drive that led him to join the DWP.
"For me, it's the challenge that really makes it compelling," he says. "The challenge and the scale
"Delivering on Digital: The
26 July 30, 2016 FCW.COM
Innovators and Technologies That Are Transforming Government" was published by RosettaBooks. This excerpt is used by permission.