Page 2 - FCW, July30, 2016
P. 2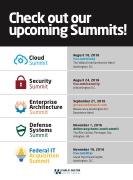 Check out our upcoming Summits!
August 10, 2016
fcw.com/cloud
The Willard InterContinental Hotel Washington, D.C.
Security
Summit
August 24, 2016
fcw.com/security
W Washington D.C.
Enterprise Architecture Summit
September 21, 2016
goveaconference.com
Renaissance Washington D.C. Downtown Hotel
Defense Systems Summit
November 1, 2016
defensesystems.com/summit
The Ritz-Carlton, Pentagon City Arlington, VA
Federal IT
Acquisition Summit
November 16, 2016
fcw.com/fias
Grand Hyatt Washington Washington, D.C.