Page 15 - FCW, July 15, 2016
P. 15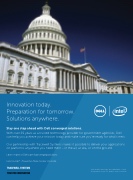 Innovation today. Preparation for tomorrow. Solutions anywhere.
Stay one step ahead with Dell converged solutions.
With over 25 years as a trusted technology provider for government agencies, Dell can help you achieve your mission today and make sure you're ready for what's next.
Our partnership with Tracewell Systems makes it possible to deliver your applications on platforms anywhere you need them – in the air, at sea, or on the ground.
Learn more at Dell.com/convergedsolutions
Intel Inside®. Powerful Data Center Outside.
Intel and the Intel logo are trademarks of Intel Corporation in the U.S. and/or other countries.